Gages Lake Road Closed for Emergency Culvert Replacement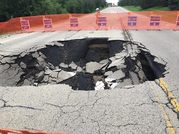 Gurnee, IL - The Lake County Division of Transportation (LCDOT) closed Gages Lake Road, from Illinois Route 21 to Hunt Club Road, to through traffic on Wednesday afternoon July 12 due to floodwaters washing out a large culvert and collapsing the road just east of Leonard Drive. Lake County DOT maintenance crews were able to identify that the culvert was in distress and closed the road prior to the pavement collapsing.

The road will remain closed to through traffic until the culvert is replaced and the pavement repairs are complete. LCDOT will work as quickly as possible to get the road back open. An estimate of the length of time needed for the closure will be available when repair options have been more fully evaluated.

Local traffic will have access from Hunt Club to Leonard Drive and Muirfield Drive and from Illinois Route 21 to Colby Road.

Detour Route: Hunt Club Road to Illinois Route 120 to Illinois Route 21.