10 to Defend
Gurnee Police Initiatives for Safer Community Policing
Learn More
Call 2-1-1 for Assistance in Lake County
24/7 support line for access to resources
Learn More
Why Gurnee?
---
The Benefits of Doing Business in Gurnee
Welcome to the Village of Gurnee! My name is Mayor Tom Hood. I have had the privilege of serving this wonderful community as trustee since 2013 and now as mayor. Gurnee is the perfect place to grow your business, whether you are a small enterprise looking for your first opportunity or an established corporation looking for an ideal location to expand.
There are so many reasons that Gurnee is the place for business, but a few to consider are:
Exceptional Village services. From high-speed internet to well-maintained infrastructure, we have your business utility needs covered. Additionally, Gurnee's Visitor Oriented Police unit is dedicated to monitoring and protecting Gurnee's businesses.
Location and access to two major metropolitan markets. Gurnee is situated right off of I-94, with non-tolled intersections, halfway between Milwaukee and Chicago.
Well-educated and diverse workforce available to meet your needs.
Outstanding schools and parks and a variety of housing types - lifestyle amenities for families to call Gurnee 'home'
Shopping and Entertainment that brings 23 million visitors to our doorstep every year
No Village property or utility tax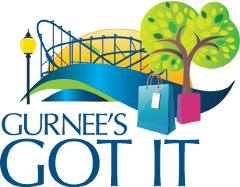 I invite you to consider Gurnee when evaluating where to locate and grow your business! Whatever your needs, Gurnee's Got It!
Sincerely,
Mayor Thomas B. Hood
Doing Business in Gurnee
Gurnee is the place to do business. Find out in the links below helpful links to get your business started in Gurnee!