Stearns School Road Bridge Closure
The Illinois Tollway Authority has announced that construction on Stearns School Road from North Creek Drive west to Lawson Boulevard will begin with daily closures on March 1st and a full closure on March 15th. The closure is necessary for the removal of the 70-year-old Stearns School Road Bridge over I-94.
As part of the Stearns School Road Bridge Project, the existing two-lane Stearns School Road Bridge will be replaced with a new, wider bridge structure. This Tollway‐led project is planned to construct a new bridge that will carry three lanes of Stearns School Road over the North Tri‐State Tollway (I‐94) along with 4‐foot‐wide shoulders, replacement of the existing pedestrian path on the north side and the addition of a new sidewalk on the south side.


The Illinois Tollway Authority anticipates the closure to remain until construction is completed, with current estimates indicating late 2021 as a target completion date. The full closure of the existing bridge will be necessary because the existing bridge structure is too narrow to accommodate traffic while safely providing a work zone to complete the removal and reconstruction of the bridge.
The posted detour for this section will direct eastbound traffic along Stearns School Road to use Hunt Club Road to access Grand Avenue, and westbound traffic to use Dilleys Road to access Grand Avenue. A full map of the detour is available below.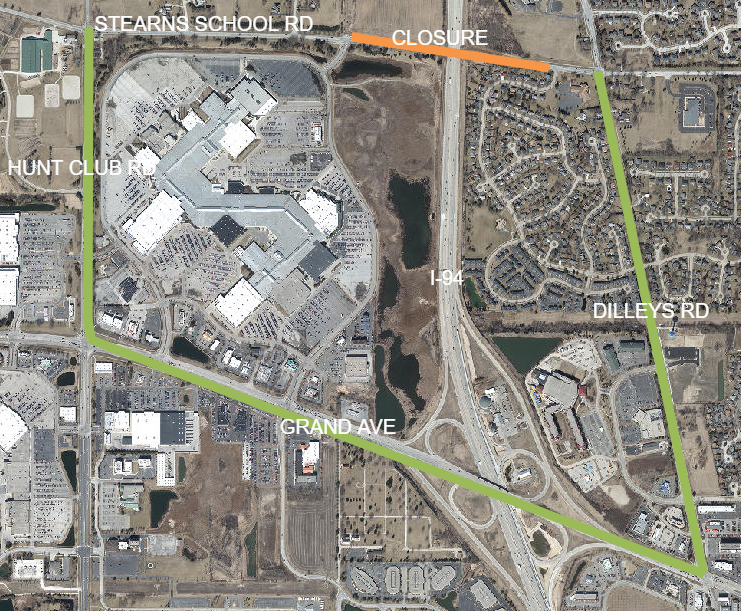 Motorists can learn more about the construction project at: https://www.illinoistollway.com/projects/tri-state/stearns-school-road-bridge
###
-END-