Lock-Take-Hide Theft Prevention Program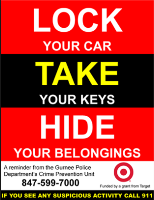 Lock-Take-Hide Theft Prevention Program
The offense of vehicle burglary is a crime that is opportunistic in nature and can be effectively prevented. The Gurnee Police Department has found that a significant percentage of auto burglaries committed in the Village are done to vehicles that are either left unlocked, have valuable property in plain view, or both. That being the case, victims along with locations, (not just offenders), must be impacted in order to achieve a significant reduction in these offenses.
The damage and property loss resulting from an auto burglary can easily reach into the thousands of dollars. Not to mention the heartache caused to victims. Property loss and damage is one thing, but the feeling of being violated can linger for quite some time.
The "Lock-Take-Hide" theft prevention program has been used successfully in other municipalities. The institution of this program has contributed to a reduction of auto burglary offenses in some targeted business areas by as much as 24%.
The program is founded on brightly-colored signs that are provided to property owners to post at strategic locations. The signs remind residents, employees and patrons to lock their vehicles, take their keys, and hide valuable property.
The village has purchased a supply of these signs to distribute throughout the community. Areas of focus include hotels, health clubs, apartment complexes, entertainment, and retail locations, and residential areas throughout the village.
Residents and business owners can participate in the program by contacting our crime prevention unit at 847-599-7080.
Have a question, comment, or complaint? If so, please leave us a comment. We look forward to hearing from you.